Your network is only as good as its security, and traditional detection and blocking defenses are no longer adequate.
As more companies pursue a Zero Trust Network Architecture (ZTNA), we can be a valued partner to help evaluate and plan the migration to ZTNA. At Eastern, security is not an afterthought; it's a comprehensive security study that's strategically integrated into all of our networking offerings. We have been instrumental in the design of some of the largest and safest networks in the world, with build-outs that help protect against unauthorized intrusion across the full attack continuum.
Given today's current state of technological security, it is imperative to provide our customers with a full arsenal of security solution options. We only partner with the best in the industry – security leaders like Cisco, CrowdStrike, SentinelOne, Dell EMC Cyber Recovery, Okta, and Zscaler.
Eastern's extensive list of security partners empowers us to find the perfect solution for each business case. We architect customized solutions based solely on your company needs, as we understand that every company is different, and current situations vary – for example:
1. Are you looking at how you are protecting your backup from encryption or destruction; or how long it would take to recover from a cybersecurity disaster if your backups were destroyed or encrypted?  Dell EMC For Cyber Recovery  solutions should be something you take a hard look at as the market share leader of Data Protection Appliances and Software. Read more  about these powerful security solutions.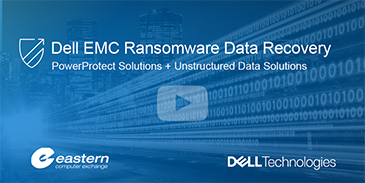 2. Do you have a cloud-first strategy and are you or will you be moving workloads to the cloud? Then you would be a good candidate for Zscaler which has a security stack supporting ZTNA that is cloud-focused and costs that scale with usage. This helps avoid costly infrastructure setups required for replicating on-premise security infrastructure into the cloud environment, as well as licensing fees.
Read the white paper: Three strategies to accelerate your business transformation.
3. Are you switching to as many 'as-a-Service' offerings as possible to minimize infrastructure management? Or are concerned that adopting the cloud operating model will affect identity and access? Then you should consider Okta. Okta specializes in best of class single-sign on and uses SAML 2.0 to incorporate with many application vendors.
Quick Read: Okta's Ransomware Prevention Checklist – Three practical steps to protect your organization from ransomware attacks with an identity-centric zero trust approach to security.

Artificial Intelligence/GenAI
Artificial Intelligence/GenAI can strengthen an already robust cyber recovery solution.
If you have a powerful computing infrastructure already in place you should have AI built into your cyber recovery solution. But is that secure enough for today's escalating cyber threats? That depends on your cyber recovery product of choice.
Standard cyber recovery solutions use AI to detect metadata-level corruption by leveraging data backups to observe data irregularities and utilize analytics to detect signs of corruption indicative of a ransomware attack. Unfortunately, this is not enough to thwart today's sophisticated cybercriminals who are going beyond this level of attack.
To combat these next level threats, a full-content analytics approach should be implemented. Products like CyberSense from Dell, which is fully integrated with Dell PowerProtect Cyber Recovery, provides up to 99.5% confidence in detecting data corruption by scanning inside the file to compare how that data changes over time. Without full-content-based analytics, the number of false negatives will be significant, providing a false sense of confidence in your data integrity and security, and waste time and money.
Don't fall behind – now is the time to choose us as your trusted partner and start accelerating intelligent outcomes with Dell Technologies and NVIDIA.
Contact Eastern today to start discussing how your security can be improved and your data safe. It's never too late – or too early. www.ecei.com/contact
Assets
Contact Eastern for your Security assessment.