Dell APEX Cloud Platforms Deliver Consistent Multicloud Operations
Dell APEX Cloud Platforms are a portfolio of fully integrated, turnkey systems integrating Dell infrastructure, software and cloud operating stacks that deliver consistent multicloud operations by extending cloud operating models to on-premises and edge environments. Workloads can be placed in the optimal location based on desired performance, cost and security requirements with data mobility across a common multicloud storage layer.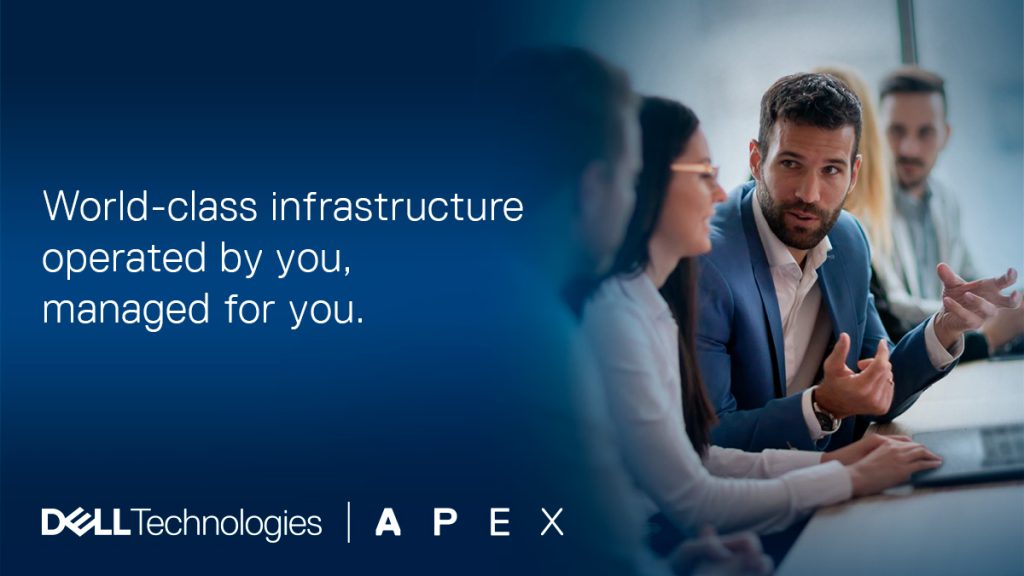 APEX Cloud Services enables IT to run production on public cloud workloads on-prem.
The Dell APEX Console provides self-service access to a catalogue of cloud services and guides you through the entire technology lifecycle.
Operate, Optimize & Grow to meet your business needs!
Get the Right Cloud Service to Support Your Application Workload
Evolve, stay agile and meet customer needs faster with Eastern's innovative cloud strategies and solutions. We will analyze your business challenges and workload to identify which cloud service will best meet your current and future needs.
Public Cloud
The public cloud offers critical business resources, such as infrastructure, storage and servers, in a fully virtualized environment—eliminating the need to install any on-premise software. With Eastern's public cloud capabilities, you'll get easy setup and configuration, scalability to meet workload and user demands and greater agility without the burden of managing an on-premise data center. Our public cloud capabilities include VMware Cloud on AWS, Azure VMware Solution, Google VMware Engine, Virtustream, AWS, Azure, GCP and Faction.
Private Cloud
Eastern's private cloud solutions deliver the flexibility, scalability and self-service of the public cloud with the added benefit of control and customization. Leveraging an on-premise computing infrastructure, private cloud offers a superior level of security, while guaranteeing resource availability and the ability to meet regulatory compliance requirements.
Our private cloud expertise includes VxRail and VxRack, VMC on Dell, AWS Outposts, vSAN Ready Nodes, Nutanix Acropolis, Red Hat OpenShift, AzureStack, X86 Compute Platforms (Dell, Cisco, HP, Lenovo) and Software Defined Networking with ACI and Flow.
Hybrid Cloud
For many organizations, managing their IT infrastructure doesn't include a one-or-the other approach. If this is your business, a hybrid cloud might be the best choice. Here, you get a customizable combination of both public and private clouds using the most relevant features for your company. With a blend of the two, Eastern's Hybrid Cloud solutions deliver the control and security of a private cloud with the flexibility and cost benefits of a public cloud.
Multi Cloud
Multi-Cloud environments, or the use of two or more cloud computing platforms, shift the control from the provider to the organization. With that, you can capitalize on performance optimization opportunities and move workloads to the most appropriate and secure environments as needs change, ultimately eliminating the reliance on any single cloud provider.
Cloud Security
Maintain consistent security protocols across any cloud deployment with Eastern's cloud security solutions. Eastern takes a multi-layered approach to cloud security by partnering with SIEM (Security Information & Event Management) industry drivers like Splunk and Azure Sentinel to protect your data, ensure compliance and maintain productivity.
Cloud Migration Assessment Services
Not sure which applications and deployment models are best suited for your business? We offer Cloud Cost Analysis and Cloud Placement assessments to help you figure it out.
Cloud Strategy Development Services
With Eastern's customized design, deployment and management services, you can be sure you're getting transformative business benefits from your cloud technology.
Cloud Management, Automation & Orchestration
We'll help you seamlessly automate and streamline your multi-cloud experience with offerings that include Red Hat Ansible , the Turbonomic Platform, AWS Control Tower, Azure Automation, Chef Enterprise Automation Stack, Puppet Enterprise, Nutanix Prism and CloudCheckr.
Container Services
Expertly automate and manage the lifecycle of containers that rely on virtual isolation with container services from Eastern. Our featured solutions include Red Hat OpenShift, AWS Elastic Container & Kubernetes Service, Azure Kubernetes Service and Nutanix Karbon Kubernetes.
End User Computing
Featuring Citrix Digital Workspaces, Desktop-as-a-Service and Application Delivery both on-prem and in the cloud.
Assets
Contact Eastern for your Cloud assessment.