Eastern has been collaborating with IT professionals sorting through the many different "cloud configurations" for years. With more options than ever, not to mention overlapping security considerations, it takes many knowledgeable and experienced IT heads to address the numerous cloud concerns as decisions are made, and changed, over time.
Our Offer to you: Coffee Talk with Wally
Eastern supports the benefits of a consistent hybrid cloud. This is why it's our pleasure to offer you a chance to engage an industry leading cloud expert, our CTO since 2002, Wally Rival. Bring Wally your cloud questions and concerns during a private, one-on-one discussion.

We understand that making time is a two-way street. To show our appreciation for you stepping out of your normal schedule, those who meet with Wally will receive a Nespresso® coffee machine. A great way to keep your energy up, so you can stay on top of the cloud!
Benefits of a Consistent Hybrid Cloud
An Excerpt from the IDC White paper: "Benefits of the Consistent Hybrid Cloud: A Total Cost of Ownership Analysis of the Dell Technologies Cloud."
Enterprises typically adopt a mix of public and private clouds, each having a distinct set of advantages that are optimal for the specific needs of the targeted workloads.
The lack of consistency across platforms results in a set of disconnected processes, platforms, and tools within the organization, increasing the complexity of managing deployments across the cloud platforms. In addition, the differences across platforms result in diverging skill sets and training needs, as organizations upgrade their competencies. All these translate to additional management and manpower costs and increased total cost of ownership (TCO).
Without addressing these gaps, multi-cloud strategies may prove ineffective at scale and limit innovation, as enterprises find themselves burdened with incompatible silos of infrastructure and higher operational expenses. An IDC survey of 500 enterprise IT organizations with hybrid cloud environments revealed that this lack of consistency across cloud platforms is a top challenge.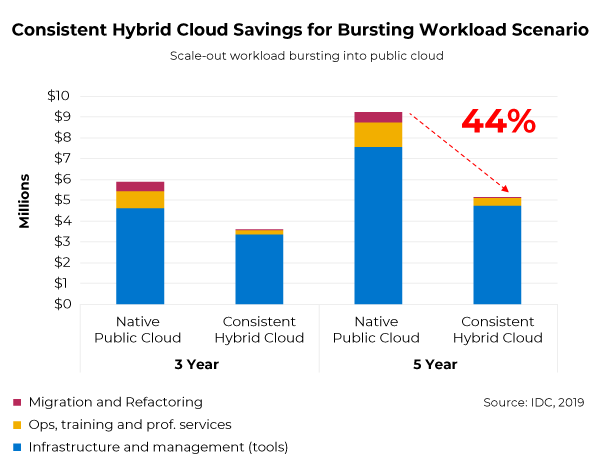 Above results show that the consistent hybrid cloud platform (Dell Technologies Cloud) achieved savings of up to 47% over a five-year period compared with a native public cloud, when evaluated for typical applications being deployed on cloud infrastructure by enterprises today.
Get to Know Wally Rival
As a CTO, Wally's career has been focused on delivering IT infrastructure strategies for Fortune based companies around the globe. He has architected disaster recovery and business continuity solutions that have been instrumental to their growth and success.
Wally manages strategic initiatives for Hybrid Cloud, including Service Automation, Software Defined Everything, Security, Digital Transformation, Operations Services, Digital Workplace, IoT, AI, ML , Distributed Edge Compute, and Elastic storage for streaming workloads.
Please fill-out the form below completely and with as much detail as possible. We will contact you to set up a one-on-one call appointment with Wally.
Disclaimer:
One-on-one calls with our CTO are limited to the first 5 eligible candidates. Eligibility determined by fully completed form. Once call is completed, candidate will receive a Nespresso® machine.