How New Storage Technology Drives Data Center Modernization
THE RESULTS ARE IN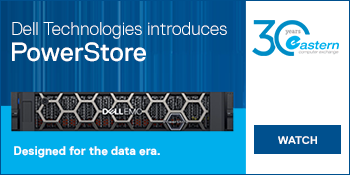 Modernizing your data center creates a business advantage that ultimately translates to revenue. But critical to your transformation is deploying a storage platform that supports the scale and complexity of an evolving landscape. Eastern Computer Exchange has over 30 years of experience implementing the most up to date storage solutions on the market. And we'd like to share that expertise with you.
This valuable presentation features:
Why updating your storage infrastructure is critical to a successful modernization effort
How Dell PowerStore, a next-generation midrange data storage solution, provides value, flexibility and simplicity
A Q&A with Eastern's leading global storage and systems experts
Join us for a virtual one-on-one meeting to discuss your specific storage needs and receive a thank you gift – a PhoneSoap phone sanitizer – fill out form to schedule now!