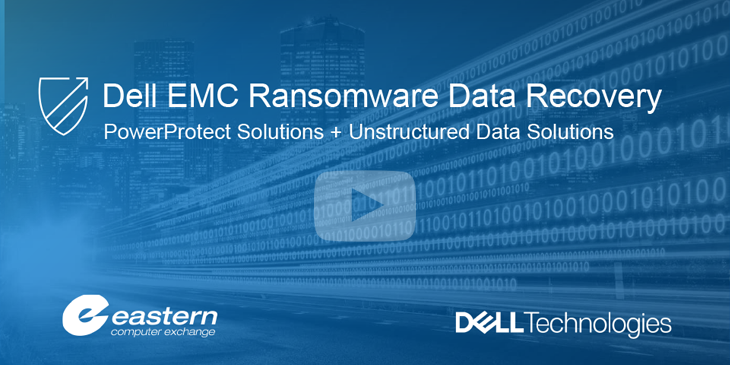 Webinar: Cyber Resiliency Through Dell EMC Data Recovery Solutions
Virtualized Networks, Comprehensive Security
Your organization is supported by your technology operations—but it's not your core business, it's ours. Eastern designs virtualized networks to maximize automation and productivity with multiple layers of defense for the highest level of security—so you can spend your time satisfying your customers, not on your underlying infrastructure.
Networking
It is critical to ensure seamless collaboration and communication across virtualized networks. From enterprise networking, software defined data center (SDDC) and security to collaboration, wireless networks and application delivery networks, Eastern has helped customers revolutionize the way their businesses connect—on both a global and enterprise level.
We are a Dell Technologies Titanium Partner, as well as a strategic partner with many other networking and security manufacturers like Palo Alto, Snowflake, F5 and RSA. By investing in partnerships with industry leading manufacturers like Dell Technologies and Cisco, Eastern is able to design high-performance virtualized networks that are customized to meet individual customer challenges.

Security
Your network is only as good as its security, and traditional detection and blocking defenses are no longer adequate. At Eastern, security is not an afterthought; it's a comprehensive security study that's strategically integrated into all of our networking offerings. We have been instrumental in the design of some of the largest and safest networks in the world, with build-outs that help protect against unauthorized intrusion across the full attack continuum.
Given today's current state of technological security, it is imperative to provide our customers with a full arsenal of security solution options. We only partner with the best in the industry – security leaders like Dell EMC Cyber Recovery, Okta, ZScaler and Secureworks.
Eastern's extensive list of security partners empowers us to find the perfect solution for each business case. We architect customized solutions based solely on your company needs, as we understand that every company is different, and current situations vary – for example:
1. Are you looking at how you are protecting your backup catalog from encryption or destruction; how long it would take to recover from a cybersecurity disaster if your backups were untouched, or how long if the catalog was destroyed? Dell EMC For Cyber Recovery solutions should be something you take a hard look at as the market share leader of Data Protection Appliances and Software. To learn more about Dell EMC Cyber Recovery, click here.
2. Do you have a cloud-first strategy and are you or will you be moving workloads to the cloud? Then you would be a good candidate for Zscaler which has a security stack that is cloud-adjacent and costs that scale with usage. This helps avoid costly infrastructure setups required for replicating on-premise security infrastructure into the cloud environment, as well as licensing fees.
3. Are you switching to as many 'as-a-Service' offerings as possible to minimize infrastructure management? Or are concerned that adopting the cloud operating model will affect identity and access? Then you should consider Okta. Okta specializes in best of class single-sign on and incorporates the most vendors. Plus, the Okta Advanced Server Access product was purpose-build for the modern cloud, automating key identity and access controls across fleets of dynamic hybrid and multi-cloud infrastructure at any level of scale.
4. Are you considering building your won Security Operations Center? We suggest you consider Secureworks Managed Detection And Response (MDR) Solution. MDR can deliver a more effective approach by leveraging the power of their network effect, a benefit whenever new threats are detected, regardless of where they are found 24/7/365. This provides businesses with these critical safeguards – at a cost that is up to 3 times lower TCO than piecing together a security solution or doing it yourself. For more information on security powered by Secureworks, click here.
Dell EMC's PowerProtect Cyber Recovery Portfolio
Increase your business agility, accelerate time-to-market, improve your cloud economics and reduce risks with Dell EMC's PowerProtect Cyber Recovery portfolio.
Innovative solutions for robust data resilience
Secure data isolation
Automated workflows securely move business-critical data to isolated environments
Intelligent CyberSense analytics
Adaptive analytics, machine learning and forensic tools to keep you ahead of the rapidly changing threat landscape
Data recovery with confidence
Increase business resiliency with automated recovery workflows and dedicated incident response from SecureWorks
Enable a cyber recovery strategy
Strategize, implement, adopt and scale a cyber recovery program to support your business needs
Cyber recovery services
Achieve true resilience by creating synergy between your business technology and processes
Read more about these powerful security solutions.
Contact Eastern today to start discussing how your security can be improved and your data safe. It's never too late – or too early. www.ecei.com/contact
Assets
Contact Eastern for your Network & Security assessment.