Artificial Intelligence/GenAI
Artificial Intelligence/AI has been dominating the tech news, and for good reason. Generative AI (GenAI) can deliver a myriad of benefits by optimizing data patterns to deliver quality information that may be used across virtually all business verticals. GenAI can also strengthen an already robust cyber recovery solution.
From a growth standpoint, AI is driving change in every industry – from healthcare, FinTech, media & entertainment, manufacturing, edge, data center and cloud computing, and more. Nvidia, an Eastern strategic partner, is a leader in this innovation. By using complex algorithms and neural networks to understand the patterns in the data it's given, fresh content creation is generated based on that knowledge. Generative AI applications can include aiding medical imaging analysis and drug discovery in healthcare. In finance, it assists with fraud detection and portfolio optimization. It offers personalized recommendations, natural language processing, and virtual assistants in various industries.
The AI-Enterprise Ready Platform from NVIDIA offers end-to-end hardware and software that can be deployed anywhere – including a virtualized enterprise data center with VMware vSphere with Tanzu, on mainstream NVIDIA-Certified Servers, with Red Hat's OpenShift container platform, in the public cloud, on CPU-only servers, and in just about any data center environment – on-prem, in a co-location facility, or in a private cloud.
Benefits of NVIDIA AI Enterprise include:
Improves productivity and lowers costs with accelerated computing
Frees teams to build innovative AI solutions with enterprise-grade security, reliability and support
Cloud-native and certified to run anywhere and on current and prior GPU generations
Speeds time to production with AI workflows and pretrained models
A modernized data center is essential for supporting AI, but achieving this can be complex and costly. As a Dell Technologies Titanium Partner, Eastern works with Dell to provide solutions to these challenges with a broad end-to-end portfolio of products and solutions that empower business intelligence, data analytics and ML operations while providing data scientists with the tools they need to innovate with data.
Validated Designs for AI
Dell Technologies Validated Designs (DTVD) are tested and proven configurations, dynamically built to fit needs based on specific use cases, documented to help speed and simplify deployment, and supported system architectures optimized for AI.
Identify, curate and activate high-value data

Enable effective data access, scale and control across your organization from edge to core to cloud to create real, measurable value.

Put AI to work anywhere, in any way

Power your choice of AI workloads with modern IT infrastructure that supports on-premises, cloud or hybrid environments, with protection across boundaries for fast-tracked innovation everywhere.

Achieve success at any scale as you grow

Optimize any part of your business with AI and analytics at any scale, for organizations of any size, wherever you are on your AI journey, as your data grows and use cases change.
If you have a powerful computing infrastructure already in place you should have AI built into your cyber recovery solution. But is that secure enough for today's escalating cyber threats? That depends on your cyber recovery product of choice.
Standard cyber recovery solutions use AI to detect metadata-level corruption by leveraging data backups to observe data irregularities and utilize analytics to detect signs of corruption indicative of a ransomware attack. Unfortunately, this is not enough to thwart today's sophisticated cybercriminals who are going beyond this level of attack.
To combat these next level threats, a full-content analytics approach should be implemented. Products like CyberSense from Dell, which is fully integrated with Dell PowerProtect Cyber Recovery, provides up to 99.5% confidence in detecting data corruption by scanning inside the file to compare how that data changes over time. Without full-content-based analytics, the number of false negatives will be significant, providing a false sense of confidence in your data integrity and security, and waste time and money.
Don't fall behind – now is the time to choose us as your trusted partner and start accelerating intelligent outcomes with Dell Technologies and NVIDIA.

IT Innovation Through Modern Data Centers
As IT innovations and technological advancements continue to fuel the digital era of today, you need to make sure you have the right IT infrastructure in place that maps to your long-term business goals. Eastern offers that expertise with modern data centers that are agile, scalable, highly virtualized, software defined and automated—across the globe.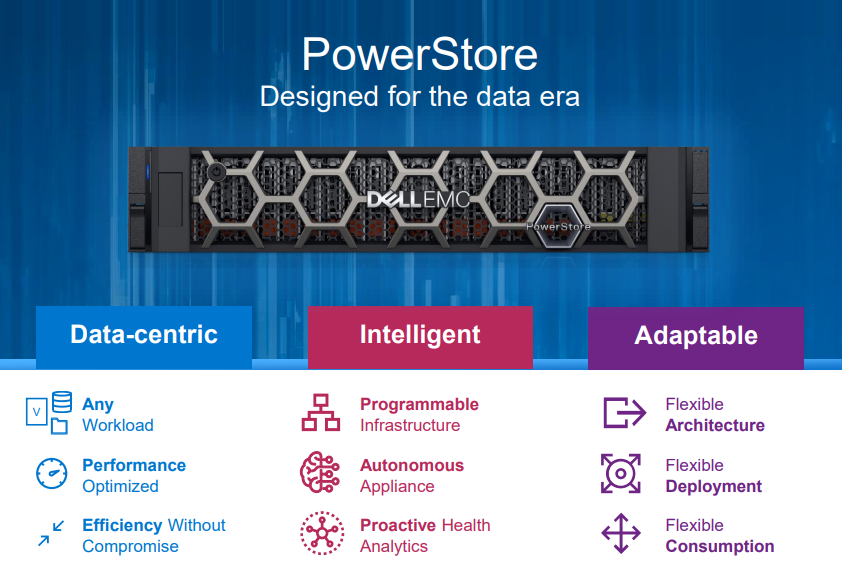 Dell Technologies PowerStore – The Innovator
To fully address the challenges of the data era, a next-generation storage platform must be able to meet four key requirements:
1. Scale up and scale out to manage unpredictable growth
2. Support any workload (block, file, vVol or container-based)
3. Adapt as needs change, without disruptive migrations or upgrades
4. Offer flexibility to support both traditional storage topologies and run applications locally1
The answer to these existing and emerging challenges is PowerStore: the all-new storage platform from Dell Technologies and the most innovative storage array in the industry. No other storage product can deliver all of these capabilities in a single solution.
Innovation Highlights Include:
AppsON –
PowerStore is the only purpose-built array with a built-in VMware ESXi hypervisor2, which provides flexibility to run VMware virtualized apps directly on the appliance, while providing capacity for external workloads at the same time. No other products offers this capability; the best they offer is layered storage apps to perform specific functions.
Flexible Scale-Out Architecture –
PowerStore's flexible scale-up AND scale-out architecture is perfect to address both challenges in one platform. Every other competitor can either scale-up or scale-out, leaving customers to make trade-offs and not fully meet the needs of the business. Check out the details in this video: PowerStore: Intelligent Scale Up & Scale Out
Anytime Upgrade –
Anytime Upgrade 3 is the only program that allows you to redeem your upgrade anytime after 180 days, and you won't have to cut another check to renew your support contract4.This conversation with ESG is a great way to understand Anytime Upgrade Video.
Simplicity through Automation and Machine Learning (ML) –
Simplicity through automation and Machine Learning (ML) – PowerStore scales-out and automates labor-intensive tasks to drive IT efficiency even as your environment grows unpredictably, eliminating dozens of time-consuming tasks and decision points to reduce volume rebalancing tasks by up to 99% compared to traditional environments.6 Check this video out for a more technical explanation: PowerStore: Machine Learning & Automation.
Hyperconverged Infrastructure (HCI)
You need an IT infrastructure that's nimble enough to allow you to compete in the face of the constant shift of new technology and evolving business demands. Eastern's HCI solutions fill that need by combining compute, storage and networking into a single system so you can simplify operations, reduce CAPEX and rapidly scale to respond to changing business needs.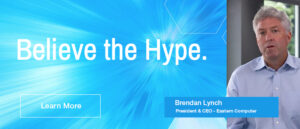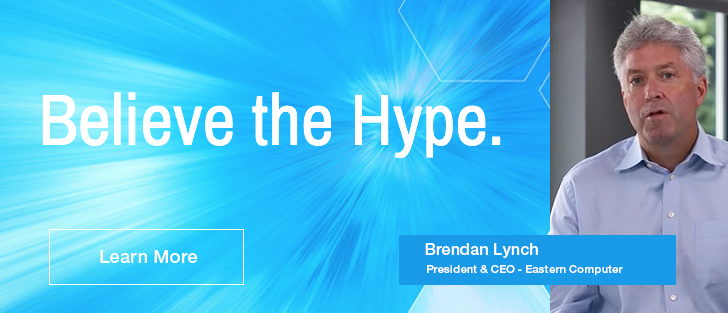 Virtualization
Virtualization is the most effective way to reduce IT expenses while delivering greater efficiencies and agility for businesses of all sizes in all corners of the world—and that's what Eastern does. Our virtualization solutions help you make better use of compute power, improve data center flexibility and scalability, reduce your footprint and energy costs, boost system performance and get more from your existing hardware.
Software Defined Data Center (SDDC)
By integrating compute, storage and management into software that runs on a unified platform, Eastern's SDDC solutions deliver services that were previously provided via hardware through software. With this infrastructure in place, you can streamline IT operations, scale easily, increase service agility, optimize TCO, support both traditional and cloud-native workloads and realize significant ROI.
Container Management Orchestration
For your containers that rely on virtual isolation to run your multiple apps without the need for virtual machines, Eastern offers Container Management Orchestration. Here, we help you automate and manage the lifecycle of containers and their dynamic environments—from deployment, management and scaling to networking and availability.

1 – AppsOn capability available on PowerStore X models.
2 – Based on Dell analysis of publicly available information on current solutions from mainstream storage vendors, April 2020. Available on X models.
4 – Upgrade available 180 days after invoice. Requires purchase of minimum 3-year ProSupport with Anytime Upgrade Select or Standard add-on option at point of sale to qualify. Anytime Upgrades program availability may vary by country segment. For details, contact your sales representative.
6 – Based on Dell internal analysis of staff time required to maintain balanced PowerStore cluster vs traditional multi-array deployment, March 2020. Factors in effort required to monitor, plan, define and execute volume migrations. Actual results will vary.
Assets
Contact Eastern for your storage assessment.